HQ Office Contact:
No 11, Jalan 6/118C,
Desa Tun Razak
Industrial Park,
56000 Cheras,
Kuala Lumpur, Malaysia.
+603-2856 7144
+6012-703 2336
+603-9107 7300
neolee.sales@gmail.com
+60127032336
Outlet Contacts:
KL Branch (Main)
Level 1, IKON Connaught Mall,
Taman Connaught,
56000 Cheras,
Kuala Lumpur, Malaysia.
+603-9212 9402
+6012-323 3037
neolee.connaught@gmail.com
Johor Branch
37, Jalan Teratai 2,
Taman Johor Jaya,
81100 Johor, Malaysia.
+603-9212 9403
+6018-223 4171
neolee.johorjaya@gmail.com

Sabah Branch
(Also known as Kreino Sdn Bhd)
Level 1, No 1B-8,
Central Shopping Plaza,
Kepayan Ridge,
88200 Kota Kinabalu,
Sabah, Malaysia.
+6088-267 899
+6019-628 9899
travis.tan@kreino.com


NL9612 Adult Forearm Walker (Cardiac Walker)
RM 499.00
RM 449.10
In Stock
NL9612 Adult Forearm Support Walker (Cardiac Walker)
Also known as 'Cardiac Walkers', the NL9612 is suited for those with mobility difficulties and for post operation patients to supports their entire weight by resting their arms on the paddings during rehabilitation (walking) exercises by reduces the strain in their arms and reduces the risk of falling.
Easily adjustable to suit different patient heights. It has padded arm pads

with handgrips to easily steer the walker and lockable rear castors for them to do any standing exercises. The NL9612 features a sturdy steel frame that delivers added safety and security.
The Adult Forearm Support Walker (Cardiac Walker) is a great aid for those who require support during physical activity/therapy during their post-op healing process.
Features and Benefits
Easy Height Adjustability

Sturdy and Durable Steel Frame

Comfortable Hand Grips

Supports Weight While Exercising

Ideal for Those with Limited Mobility

Assists with Post-Op Exercise and Therapy
Weight: 11.8kg
Max Capacity: 100kg
Frame: Steel
Frame Height: 100cm – 125cm
Suitable User's Height: 145cm - 180cm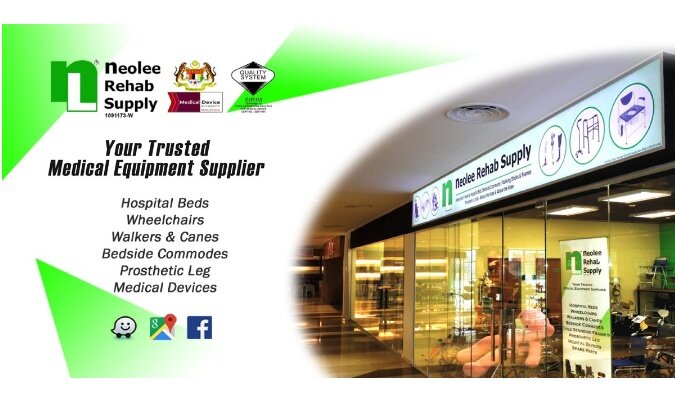 ​