HQ Office Contact:
No 11, Jalan 6/118C,
Desa Tun Razak
Industrial Park,
56000 Cheras,
Kuala Lumpur, Malaysia.
+603-2856 7144
+6012-703 2336
+603-9107 7300
neolee.sales@gmail.com
+60127032336
Outlet Contacts:
KL Branch (Main)
Level 1, IKON Connaught Mall,
Taman Connaught,
56000 Cheras,
Kuala Lumpur, Malaysia.
+603-9212 9402
+6012-323 3037
neolee.connaught@gmail.com
Johor Branch
37, Jalan Teratai 2,
Taman Johor Jaya,
81100 Johor, Malaysia.
+603-9212 9403
+6018-223 4171
neolee.johorjaya@gmail.com

Sabah Branch
(Also known as Kreino Sdn Bhd)
Level 1, No 1B-8,
Central Shopping Plaza,
Kepayan Ridge,
88200 Kota Kinabalu,
Sabah, Malaysia.
+6088-267 899
+6019-628 9899
travis.tan@kreino.com


NL965LHB Deluxe Rollator Walker
RM 549.00
RM 494.10
In Stock
NL965LHB Deluxe Rollator Walker


NL965LHB Deluxe Rollator Walker

The NL965LHB Deluxe Rollator Walker is a suitable walker for our elderly customers. The reason for this is simply due to its lightweight aluminum alloy frame, rust resistant, handbrakes with locks and is very user friendly. The NL965LHB has further convenient features such as built in seat for those long walks and a shopping basket beneath to store items.

The frame itself is foldable for easy storage and the backrest can be detached if you wish to switch positions (front of back). Having the backrest on the same side as the handles allows the user to sit and have someone else push from behind.

Weight: 9 kg

Weight Capacity: 100 kg

Frame: Aluminum

Warranty: ONE year on the frame for manufacturer defects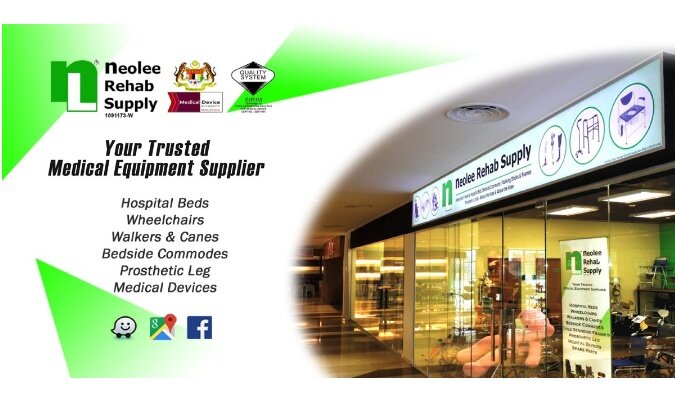 ​